Aug 27 2009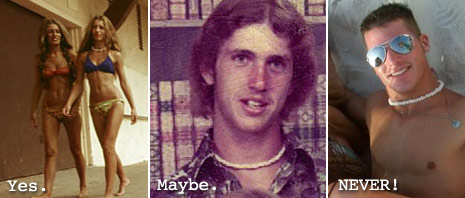 If you are a man* there are very few occasions when a puka shell necklace is allowed on your body. They are…
1) You bought a used time machine on Ebay but the knob is stuck on 1972. It also has a glitch that changes your sex and turns your clothes into a bikini while traveling through time.
2) You are Tatum O'Neal or Jackie Earle Haley and you are starring in "The Bad News Bears."
3) You are a corpse and your friends thought it would be hilarious to wreck your funeral by strapping some puka shells around your bloated neck.
6) You work at Abercrombie & Fitch and you swear you were just putting them on as a joke. Ha ha ha, right guys?
7) You are an incredible douche and you want the world to know it!
*check for penis in pants
21 comments to "Douchebags in puka shell necklaces!"