Sep 08 2009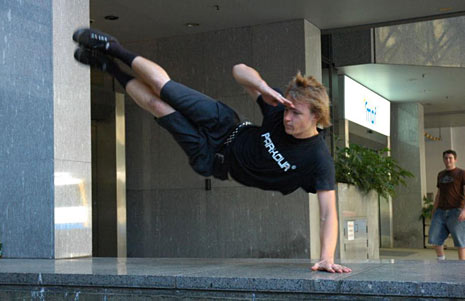 Look at me, I'm walking… TO THE EXTREME!
If I ever catch my child participating in anything that remotely resembles parkour or "free running" I am going straight to the nearest antique tool dealer, buying the largest, rustiest pre-civil war saw they own, driving back home and cutting his feet off. I'm serious, if I so much as see that kid walking on a curb or staring at a wall longingly, he can kiss those tootsies goodbye. Sure, he will complain about how "mean" I am blah blah blah, but what kid doesn't bitch and moan about their parents? He will thank me later when he's watching all those douchebags jumping around and falling on their faces, safely from the comfort of his wheelchair. He will look down at his gnarled stumps and think "Thank the good Lord above that I'm not wasting my time on this shit." He will roll off into the setting sun to the sound of zitty teen faces slamming against the pavement and whisper "Thank you dad."
Thanks to Jonathan for tipping me off to this Parkour scene from The Office!

If you are anything like me, these parkour accidents will give you a boner.
209 comments to "Parkour!"