Sep 14 2009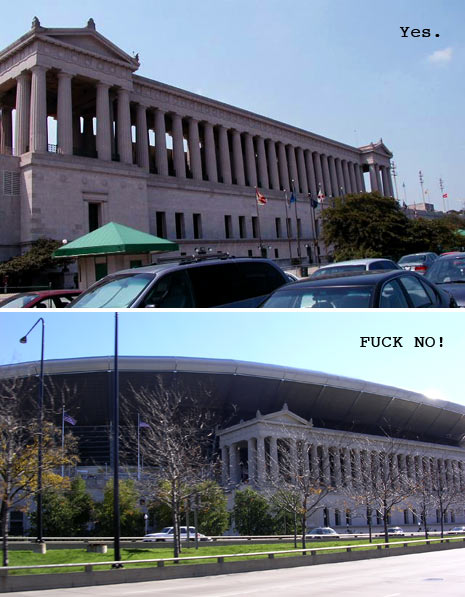 I don't really care much either way about football, but in honor of the Chicago Bears opening game last night, I feel it is my duty to take a virtual dump all over one of the least thoughtful renovations of a historic landmark ever.
Solider Field was officially opened in 1924 and has been home to many historic events. In 2002 the city of Chicago and some other douchebags decided it was time to renovate the stadium but because the stadium was listed on the National Register of Historic Places, they could not monkey around with the existing structure too much. The solution? Drop a fucking ugly piece of shit INSIDE and ON TOP OF the existing Soldier Field. This has got to be the laziest, most thoughtless work of architecture that has ever made it from blueprints to construction. How the fuck did the city let this happen?
Guess what the first thing to happen was after these "improvements" were completed? It was swiftly and wisely removed from the National Register of Historic Places.
The dick heads responsible for this brilliant design, Benjamin T. Wood and Carlos E. Zapata, should be in architecture jail right next to Frank Gehry.
Sorry, this one was not very fun or funny, I'm too lazy to be creative. Blogging sucks.
14 comments to "The "new" Soldier Field!"