Sep 15 2009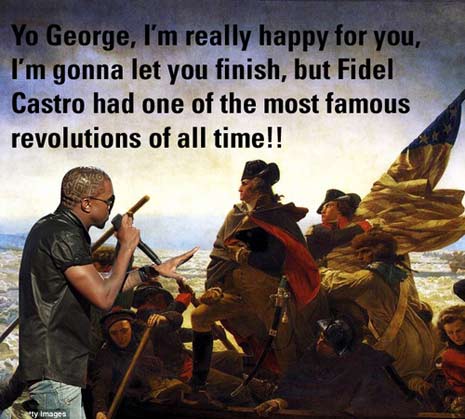 There are two reasons I am going to keep this short.
1) I went out for drinks tonight, it's late and I feel too lazy and uninspired to write about this dick knuckle.
2) I'm mad that I even know about this Kanye West, Taylor Swift bullshit.
3) I'm mad that I even know Taylor Swift's name.
4) Some of these are funny and it's easier to send you there than for me to put effort into my own website.
5) Kanye's hair looks like a jacket De La Soul would have worn in 1989.
6) #5 makes sense to me, although I realize it will not to anyone else.
7) FUCK MTV!
Goodnight.
6 comments to "Kanye West blah blah blah!"
#

Sara

on 15 Sep 2009 at 10:23 am

I bet Taylor Swift wishes she had your wit. De La Soul! ZING! she should have thrown that at him on stage

I just read that even the President called West a "Jack Ass"

I can just see Kanye on the next tellathon…."President Obama doesnt care about Beyonce"

#

Sara

on 15 Sep 2009 at 12:03 pm

"Wow, I can't believe I won," Swift recalled thinking, followed by, "Oh, Kanye West is here!…Cool haircut!…What are you doing there?!…Ouch."

-Taylor Swift being interviewed by the hags of "The View"

"President Obama doesn't care about Beyonce" – funny

#

Tim

on 22 Sep 2009 at 6:34 pm

@Sara

LMBO. Now that is funny as hell!!! LOL!

I HATE KANYE WEST!!!!!!!!!!!!!!!!!!!!!!!!!!!!!!!!!!!!!!!!!!!!!!!!!!!!!!!!!!!!!!!!!!!!!!!!!!!!!!!!!!!!!!!!!!!!!!!!!!!!!!!!!!!!!!!!!!!!!!!!!!!!!!!!!!!!!!!!!!!!!!!!!!!!!!!!!!!!!!!!!!!!!!!!!!!!!!!!!!!!!!!!!!!!!!!!!!!!!!!!!!!!!!!!!!!!!!!!!!!!!!!!!!!!!!!!!!!!!!!!!!!!!!!!!!!!!!!!!!!!!!

#

tabor

on 08 Dec 2009 at 9:06 pm

You are the greatest human to have ever existed- If I was gay I'd blow the shit out of you. That Kanye hair jacket shit made me laugh for 5 minutes straight-
You, indeed are the man