Oct 09 2009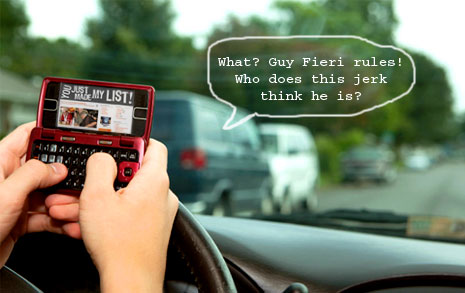 90% of the time when I'm driving and I see another driver make a jackass move, they are busy texting away. I drive up next to them and give them a look that says, "I disapprove of you and your ways." 92% of the time I am stranded behind someone at a stop sign or a green light it's because the car in front of me is texting their friend important information like "I M in car, B ther in 5. LOL." I'm not sure why they are texting LOL at the end of that but I'm sure they are.
Get off your fucking phone and stop driving like you are playing Grand Theft Auto and purposely trying to run down prostitutes.
That is, unless you are me.
I was recently awarded the "World's Best Driver" award from the International Federation of Driving Arts and Being Awesome. Yeah, I'm that good at driving. I'm even better at driving while writing emails, buying shit on eBay, texting, playing PacMan and looking at porn on my iPhone. I once watched an entire season of Lost on my phone while driving 115 miles per hour through the desert. I wasn't even wearing a shirt for Christ's sake!
You, on the other hand, drive like a cockknuckle while texting on your less-cool-than-the-iPhone phone of yours. The next time your texting gets in the way of my trip to Red Lobster, I'm going to pull up next to you and pee in your window. You have been warned.
Speaking of texting, I would like to admit to the dumbest idea I have ever had. I am ashamed of myself for this "invention" but I feel that sharing it will somehow cleanse me. Here goes…
I was driving and thought "Wouldn't it be easier to text if I could just speak into the phone and it would use voice recognition to create a text?" Well idiot, here's an idea, instead of speaking a text message how's about you just fucking call the other person and SPEAK it directly to them. I hate myself for being that dumb.
14 comments to "Everyone who texts while driving, except for me because I'm awesome at it!"