Nov 05 2009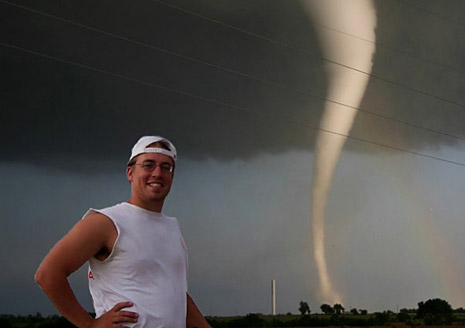 This is going to be short for exactly two reasons.
1. I'm still sick.
2. It's pretty obvious why storm chasers are annoying dorks.
3. I have not showered since Saturday morning.
4. Actually, I have been wearing the same clothes since Saturday morning. Yeah that's right, I've been sleeping in my clothes. I'm just that sick. In fact, I have not been nude since Saturday morning. That seems like a long time but I wonder how long Eskimos go without being nude. Months? Years?
5. I have to admit, there is something really pleasurable about not shaving, showering or changing your clothes for several days in a row. I'm like an amateur homeless person.
6. Hey did you hear there was just a charity event where the winning bidders got to box various Kardashians? I guess Rob Kardashian got knocked out with one punch and Kim got a black eye. That sounds fun.
7. Did you see Creed on The Tonight Show last night? Holy shit.
8. Thanks to Paul in Saint Paul, I learned today that Cheaters is FAKE! While it's true I hate that show, I am still mad about it. I'm mad at myself for thinking it was real. If I ever find out that any tiny part of People's Court is fake I will go on a killing spree.
12 comments to "Storm chasers!"
#

Sara

on 05 Nov 2009 at 8:23 am

does that mean Joey Greco wasn't realy stabbed? Damnit! Can we have a charity event where someone bids to stab him for real…not to bad, just enough for the knife to stand on its own. I need validation

Sara – That is a great idea. I bet for the right money Greco would do it too.

#

caleb

on 05 Nov 2009 at 12:57 pm

I also always wear the same clothes for days when i'm sick. why infect your other good disease-free clothes?

#

Jacob

on 05 Nov 2009 at 2:03 pm

So he was never stabbed? Bummer…

#

rachel

on 05 Nov 2009 at 3:57 pm

Listy– you are becoming delusional in your sickness. there is no one more "Honorable" than Judge Marilyn Milian, so don't even think it.

PS i tivo both episodes every day. ..i'm going to go take my metamucil and replace the tennis balls on my walker….

Rachel, will you marry me?

#

rachel

on 05 Nov 2009 at 7:28 pm

do you think we could get Judge Milian to preside??

http://images.google.com/imgres?imgurl=http://www.schlesingerforjudge.com/milian/pccover2.jpg&imgrefurl=http://www.schlesingerforjudge.com/milian/index.html&usg=__DNioLVWa5lAUwIVJdwr0Njzx2nA=&h=704&w=754&sz=57&hl=en&start=5&um=1&tbnid=_7eIESVbyFibpM:&tbnh=133&tbnw=142&prev=/images%3Fq%3Djudge%2Bmarilyn%2Bmilian%26hl%3Den%26rls%3Dcom.microsoft:*:IE-SearchBox%26rlz%3D1I7GWYE_en%26sa%3DN%26um%3D1

I love gay's they are so freaking stupid -hilariously stupid in thier own faggoty way- and making fun of other people that have more balls than they could ever want in thier mouths, and going off talking about something really really gay. Storm chasers actually want to do what thier doing and have a great time doing it… not to say your butt buddies don't… Im a homophobe, a gay hater, and a balls-out adrenaline junkie, and I approve this message.

Tosh – You had me at "faggoty."

I'm sure the storm chasing community feels honored to have such a well-spoken young man representing their point of view.

Way to go public school system!

I just so happen to be in my 20's, thank you very much, check out my website.
http://www.comedycentral.com/tosh.0/

#

Marisa

on 02 Nov 2010 at 3:55 pm

You are the biggest moron i have ever had the displesure of um reading about. They are not morons and Reed Timmer is a hero. ALL OF US WOULD BE DEAD IF IT WASNT FOR ALL THE THINGS THEY HAVE DISCOVERED! DID YOU EVER THINK ABOUT THAT YOU MORON!

Marisa – OK genius, explain to me how EVERY human on the planet would be dead if not for storm chasers. GO!