Nov 11 2009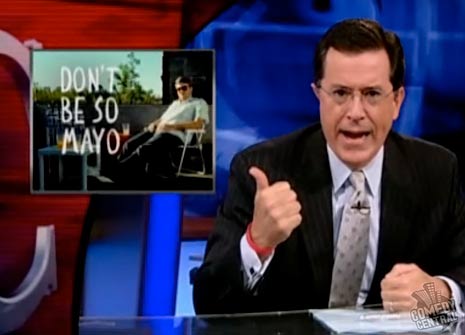 Obviously Stephen Colbert and his little staff of pot smoking New York hipsters are HUGE fans of my work and have once again stolen the contents of my handsome head. This time around these pilfering sons-of-asses have taken my genius thoughts about the Miracle Whip commercials and used them word for word. Literally WORD FOR WORD! Well, maybe not literally word for word but they literally used some of the same words. Let's just say that words were used and leave it at that! Look, the point is that clearly Stephen Colbert has instructed his "writers" to monitor my every thought and claim them as their own. It hurts Stephen, it really hurts.
13 comments to "Stephen Colbert!"
#

Lil Clarkey

on 11 Nov 2009 at 5:31 am

I'm spreadin mayo all over my Stouffer's flatbread yo!

#

Jeff

on 11 Nov 2009 at 6:49 am

The Hater also refers to that commercial regularly. You got competition, brah.

#

Yours Truly

on 11 Nov 2009 at 7:17 am

Was this post just a thinly veiled attempt to get a shout-out on the Colbert Report?

#

Jacob

on 11 Nov 2009 at 8:57 pm

ha ha mayo-ney-sayers… bon-er-riffic

#

joe

on 12 Nov 2009 at 12:30 am

yea we dont do shout outs.

#

icecycle66

on 12 Nov 2009 at 11:28 am

Miracle whip will be showing a response to Colberts comments on the 12 November episode of the colbert report.

Great. And meanwhile little old me who started this whole thing gets left in the dust. I'm coming for you Colbert!

#

JB

on 13 Nov 2009 at 10:25 am

The Miracle Whip folks fight back

http://www.mediafreakblog.com/2009/11/mayonnaise-lover-stephen-colbert-will-be-swimming-in-miracle-whip-very-soon.html

JB – Of course they fought back, they are the motherfucking whip, dude! They won't be quiet, or whatever stupid thing they say in their commercial.

#

chrs

on 13 Nov 2009 at 9:59 pm

This whole campaign is ridiculous. The response ads insult my intelligence more than the initial campaign. Really? A mayo brand is saying the people who eat it won't be quiet? We'll I'll happily tell them to shut the fuck up. It is something you spread on your sandwich. There is no revolution here. There is no platform. This is a shit product that helps make average food taste even more average. Way to go Kraft. Let's get out there with our whipped egg and vinegar and average the shit out of everything.

Two thumbs down.

c

#

Jacob

on 15 Nov 2009 at 10:28 pm

I saw that commerciail and it made me shoot up the whip into my arm… now I'm missing an arm. It's ok though, they sent me some whip in a toothpaste tube so I can get my whip on with one hand!

You Just Made My List, sorry to hear your genius ideas have been stolen. That's the price you pay for writing in the big bad internet.

#

Ahksehl83

on 01 Jul 2013 at 12:04 pm

I have never understood why this guy is thought to be funny. He is boring. Just plain boring.