Dec 31 2009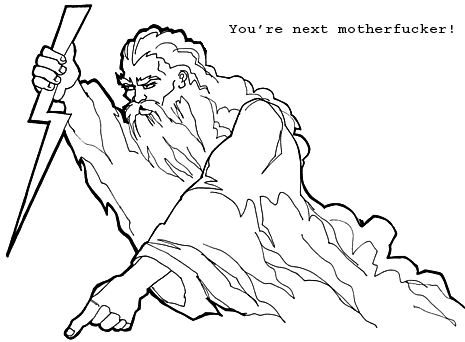 Holy crap, God sure was busy killing his way through Hollywood this year. What is up that guy's ass lately? You'd think the guy would just sit back, relax and count his blessings, but no, he feels the need to constantly kill the most important people on the planet… celebrities. His long list of trophy kills in 2009 includes:
– Famous white entertainer, Michael Jackson
– Famous big nipples, Farrah Fawcett
– Famous nerd and Dungeons & Dragons creator, Dave Arneson
– Famous Golden Girl and TV abortion getter, Bea Arthur
– Famous porn star and Ivory Soap box model, Marilyn Chambers
– Famous geriatric porn star Blue Iris (why does God hate porn so much?)
– Famous creepy guy, Ron Silver
– Famous creepy guy, David Carradine
– Famous creepy guy and man of 1,000 voices, Fred Travalena
– Famous creepy magician, Danny Gans (why not Criss Angel instead?)
– Famous Burt Reynolds punching bag, Dom Deluise
– Famous lover of teens (in a good way), John Hughes
– Famous inventor of the electric guitar, Les Paul
– Famous rubber band magnet, Captain Lou Albano
– Famous not placer of Baby in the corner, Patrick Swayze
– Famous horrible skier, Natasha Richardson
– Famous fantasy granter, Ricardo Montalban
– Famous Budweiser abuser, Ed McMahon
– Famous beard dyer, Billy Mays
– Famous two-time God victim, Adam Goldstein (DJ AM)
– Famous sexy loon, Brittany Murphy
– Famous White House pussy, Socks the cat.
Well God, are you proud of yourself? Thanks for ruining everything, you ruiner!
I hope everyone has a fantastic 2010 and escapes the cruel hand of our lord and savior.
15 comments to "God's killing spree of 2009!"