Jan 21 2010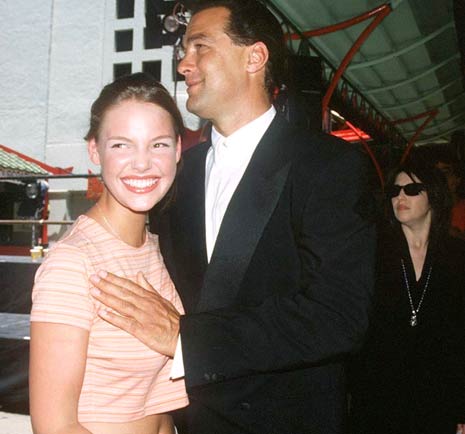 OK, tonight is my last night of packing before my official move this Saturday so I'm going to keep this short. Mostly I'm keeping it short because I'm not sure what I'm seeing right now on my TV. Why is fat Steven Seagal running around arresting people for selling crack? Is he a real cop? Was I in a coma for 20 years?
I have watched about 15 minutes of this insanity and I have never felt more confused. In fact, as I write this, officer Seagal is talking "ghetto" to some black kid with a gun but he sounds like my dad trying to imitate Richard Pryor. Awwww baby, ya dig?
I immediately was reminded of the brilliant television pilot for "Lookwell," created by Conan O'brien and Robert Smigel. In the show, which never made it past the pilot stage, Adam West plays Ty Lookwell, a washed-up actor who once starred in a bad 70s detective show. The problem is he now thinks he's an actual detective thanks to an honorary crimestopper badge given to him in 1972. Funny, right? Well this crazy plot seems to be the EXACT concept behind "Steven Seagal Lawman" with the only difference being "Lookwell" was a COMEDY!
You seriously should take a 22-minute break and watch this pilot episode of Lookwell, Adam West is a fucking genius in it.
10 comments to "Steven Segal Lawman!"
#

AB

on 21 Jan 2010 at 8:39 am

Finally, somebody recognizes the insanity A&E is pushing through peaceful Wednesday nights.
Steven Seagal is a fucking joke, and if I am listening to one more time of him being called an "outstanding martial artist" I am going to burn my gi and my gloves and consider doing ballet. That guy couldn't even best his bodyguard – and that was when he was fit and young. What a big pile of shit….lawman. Yeah, right. If THAT is who's responsible to make us all feel safe – fuck, let me buy a hugh dog and a gun!!!

#

joe

on 21 Jan 2010 at 10:12 am

a wonderful actor and policeman.

What? No one's gonna mention Segal copping a feel off an underage Katherine Heigl?? She was like 15 when they did that movie. Nice, Steven.

Ken – He's a class act!

I guess everyone is tired of my bullshit.

I drove past Steven Segal one summer about 10 years ago… He was stuck up to his frame rails in his Jeep out on Nauset Beach in Chatham, on Cape Cod.

In my experience the only thing that gets you stuck in the sand dunes is carelessness, or cockiness. I'm thinking he fell victim to both.

Anyhow, we just waved as my '73 VW Thing with it's two wheel drive and four people, a dalmatian and a trunk full of beer effortlessly crawled around him.

#

Paul in Saint Paul

on 21 Jan 2010 at 9:52 pm

Maybe you should watch the nineties hijacking Executive Decision. Segal gets a most unexpected death scene shockingly early in the film. It's most satisfying to Segal-haters. I can't wait to take in the Adam West show this weekend.

Paul: YES! It's like less than 2 minutes into the film, no? I think that was actually the last time I saw him.

#

Paul in Saint Paul

on 22 Jan 2010 at 7:14 pm

SanFran: It's great. The story seems to pit a cerebral Kurt Russell against man-of-action Segal as to how to unhijack the plane, and then, BAM, goodbye Steven Segal. I wonder if the producer or director had just had it and wrote him right out of the script while shooting.

#

Paul in Saint Paul

on 23 Jan 2010 at 11:40 am

Lookwell was hysterically funny. I cannot believe it wasn't picked up. My favorite parts may have been when he pulled out his honorary badge that was encased in glass. Also, his parting comment to the dismissive police: "Just remember, I've got A LOT of time on my hands." Thank you for Lookwell. I shall spread the word.

#

skara mcfarty

on 24 Jan 2010 at 10:20 am

joe you should be slapped.. this is the biggest piece of crap show i have ever wasted my eyes on! WHY PEOPLE?!