Feb 22 2010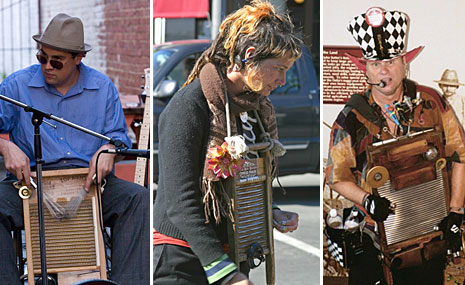 Congratulations, you can scrape two things together, now that's what I call talent!
Not since the invention of the hacky sack have smelly fuckheads had such a useless form to express themselves. Isn't it ironic that filthy hippies would choose an object made for cleaning to make "music?"
I guess it makes sense really. Some folksy turd was probably sitting around his shack when something shiny in the corner caught his eye. Having never washed his clothes or body, he stared and poked at it like the apes in 2001: A Space Odyssey when the monolith appears. He probably grabbed his booger-pickin' spoon from the cluttered floor and threw it at the washboard, thinking it was some sort of a dag-gone space monster or something. Well there must have been something about that horrible clang of metal hitting metal that sounded like music to his dirty hillbilly ears, because the next thing you know, he's jiving and shucking all over the woods with his jug of xxx moonshine and his new "instrument."
Now, thanks to this dick, I'm forced to see these assholes every Fat Tuesday on the wacky morning news, jamming with some shitty Zydeco band. You know what? Zydeco, you just made my list too. You suck!
10 comments to "Washboard players!"