Mar 23 2010
No problem, paint your horrible face while you drive. As long as you got an additional two minutes of sleep this morning, it's worth running over a few kids on your way to your sad, grey cubicle.
And don't worry about me, I'll just go ahead and drive through this Dunkin' Donuts so that you may drive in every lane. I was in the mood for a "Today's Special" anyway. Hey that reminds me…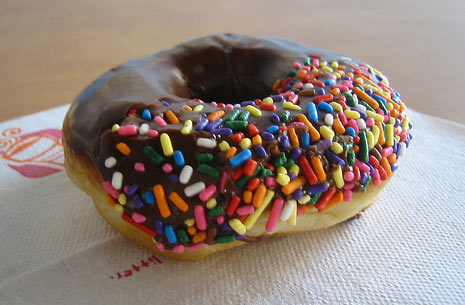 Why the fuck has the Dunkin' Donuts "Today's Special" been the same God damn doughnut for all of my adult life? Don't get me wrong, a glazed doughnut covered in chocolate frosting and half covered in sprinkles from Dunkin' Donuts is awesome, but I think they are confused about the word special. Unless they are trying to say this doughnut is retarded, they need to mix it up a bit. And what's up with the half sprinkles? If I wanted an abstract work of art I would… well, I wouldn't want a piece of abstract art so I don't need your creative sprinkle configuration either. Knock off this under-achiever attitude towards sprinkles and throw some other doughnuts into the mix. That would truly be special.
16 comments to "Women who put on makeup while driving! Oh, and also Dunkin' Donuts "Today's Special" doughnut!"
FUCK!

I'm back, mother fucker, and I can't even begin to tell you how much I abhor the make-up-application-while-driving trick. When I lived back East, this was usually something I would make a point to rectify by eventually getting her attention and chewing her a new one… but not out here, because people have guns instead of middle fingers.

Dunkin Donuts: They day they infiltrate California is the day I move further West. DD sucks – well, their coffee does – I guess their Donuts are OK, but fuck them and their styrofoam cups and bullshit color palette.

FUCK YOU

#

Sara

on 23 Mar 2010 at 9:43 am

our dunkin' donuts specials are seasonal. St Patricks day had green sprinkles! I opted for a shamrock shake to chase my whisky with though.

Maybe they are "special" as in "special olympics" out in Chicago. hence the 1/2 sprinkles. Kinda palsy in a way.

( I put on mascara at stop lights but I also carry a gun so I'm cool)

Dunkin' Donuts fucking rules, especially their horrible colors!

#

Pete

on 23 Mar 2010 at 10:21 am

Don't know about anywhere else, but my local Dunkin Donuts no longer makes their donuts on site; they're shipped in daily. So much for "time to make the donuts." Bastards.

I love them though–their coffee is my crack cocaine.

I think that the application of makeup while driving is a good thing. This way the coroner doesn't have to apply any when this goofy bitch runs into the side of a damn train. The very same train I pray for every day to run into her.

The "Today's Special" is always the same because it is the retarded doughnut. So everyday it is special. The window-licker in your 6th grade class was retarded then, and still is now. He is special every day. He is the same special guy that only his mother can stomach, after her gin straight from a plastic bottle. The same is true with the DD special. It is retarded, and will be every day.

#

Jay

on 23 Mar 2010 at 1:16 pm

Doing anything besides driving while driving is a bad idea. These people put everyone at risk of being injured or killed, they're always at the top of my list.

I didn't realize we don't have any Dunkin' Donuts in California until now. There are many independent donut storefronts in Los Angeles that I prefer to support over big chains anyway, like Monterey Donut in Highland Park or Ms. Donut in Echo Park to name a couple.

#

Tommy

on 23 Mar 2010 at 1:38 pm

Sex with donuts……mmmm

Jay: Amen.

I am pretty much unable to talk on the phone, even if I wanted to, while in the car – anything that takes me away from the task at hand is unacceptable – and this comes in handy when dodging most others on the road with me, who seem to think their cars are extensions of their living room/bathroom/office.

I was always a fan of Donut Prince on West Olive in Burbank – run by this Filipino family. Fritters as big as yo' face, and right next to the Rite-Aid, in case you needed a morning handle of Jack Daniels or something.

Where the hell were you San fucking Fran? Without you I'm nothing.

Fuck you too.

I was in Cuba, bitches… and it was AWESOME.

#

thebabychild

on 23 Mar 2010 at 8:30 pm

..and women who put their effing makeup on the fricken train!!! I secretly wish the train would suddenly slam its brakes and leave them with lipstick all over their face. Nothing but attention seeking skanks.

#thebabychild:

Nice use of the word SKANK. Bonus points for your alliteration.

Cuba? That's illegal or something. I'm telling Dick Cheney!

so if Dick comes knocking on my back door, I know who made the call at 3:00am, ass!

#

Jonathan

on 25 Mar 2010 at 8:26 am

I have a two-mile drive to work through Stamford, CT, and this morning alone I saw a girl texting while driving and a guy with his iPod earbuds in his ears. What the hell is wrong with people?????

Right now, at this very moment, I am wishing I were in L.A. just so I could enjoy some mom-n-pop donuts.

SanFran: I'm jealous. I'd love to go to Cuba to say I'd been there, and not just to laugh at the poor Commies.

#

KC

on 09 Feb 2011 at 2:41 pm

Just saw this post (a year later – must be the DD!) – Nonetheless, the best bumper sticker I have seen: GO TO WORK UGLY OR PUT YOUR MAKE-UP ON AT HOME!

Gotta love it and I totally agree! I know I have gone to work ugly! hahahahaha!