Jul 16 2008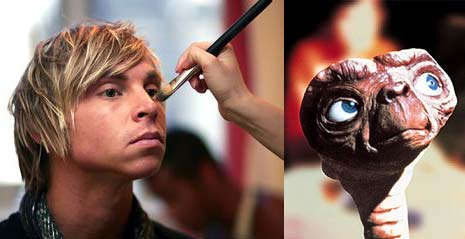 Oh how I love Bravo's Project Runway. Seriously, I LOVE it and have been a fan starting with season one. The first episode of each season always feels a bit strange because the setting is unchanged from the previous season but the cast of characters is unrecognizable. It's as if you are watching your favorite stupid show like "Everybody Loves Raymond" but every season 90% of the cast is replaced with new actors. The one consistent thing about episode one of Project Runway is that the most annoying designers quickly make themselves known and this season is no different.
As the popularity of past designers with stupid gimmicks and catchphrases grows (I'm looking down at you Christian Siriano with your fucking annoying "fierce" bullshit) so grows the number of dumb asses who make it on the show to promote their personalities rather than their design skills. This season is filled with shit heads and douchebags, in fact there are too many to write about.
Let's start with Stella. Give it up guy, you're like 60 years old and you look like Alice Cooper. It's over.
Next up, Jerry. Get your pinhead off my TV.
That brings us to Suede. I kind of hate you so much right now that I can barely discuss you. Don't get too used to hanging with Tim Gunn, you will be back in Ohio soon. Suede? Are you fucking kidding me with that name? Anyone who refers to themselves in the third person needs to be put in Guantanamo Bay.
And the mother of all Project Runway tools has to be "Blayne." Really take a moment to soak in his name… BLAYNE. Fuck off and fuck off hard! If he makes it past another episode and "holla atcha boy" becomes the new "fierce" I might have to stop wearing "urban street wear" as a protest. This orange, piece of shit is obviously only there to promote his catch phrase "holla atcha boy" and I pray they will send him straight back to Compton soon.
Kudos to Emily, Kelli and Kenly for being hot and to Terri for having the guts to try and pass himself off as a woman. Way to go dude!
4 comments to "Project Runway top douchebags emerge: Blayne & Suede!"