Jun 29 2010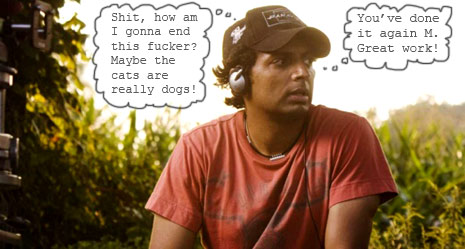 Bruce Willis is really a ghost. Bruce Willis and Samuel L. Jackson are really superheroes. Water kills aliens and Mel Gibson's wife tells him to swing some dumb baseball bat on her deathbed. The village is really an experiment and the movie actually takes place in modern times. The lady in the water is, I don't know, magic or something. Plants are making people commit suicide.
SPOILER ALERT! Whoops, I did that wrong.
Feel free to send me thank you cards and gifts for saving you from wasting several hours of your life sitting through this bullshit. I prefer vintage acoustic guitars. (No Spanish or classical guitars please and obviously pre-1970)
First of all, how did a guy named M. Night Shyamymallanam7an even find work in Hollywood? What ever happened to directors with names like JOHN FORD and COEN BROTHERS? To be honest, I don't have the five minutes it takes to say M. Night Shyamama$llayaymama, I've got shit to do, pal. I have a recall on my car to repair something that might cause my car to burst into flames and it has gone ignored for over 4 years, what makes you think I'm going to have time to pronounce your fucked-up name?
Remember when we all saw The Sixth Sense for the first time? After the movie we walked to our cars excitedly talking over each other, saying things like, "I never saw it coming" and "that kid who saw dead people was sooooo good" and "I totally can't wait to rent this at Blockbuster on VHS video tape format so I can look for clues." Well, we were a bunch of assholes. The sooner we can admit it the sooner we can begin the healing process.
UPDATE. Watch this.

72 comments to "M. Night Shyamalan and his shit movies!"