Sep 04 2008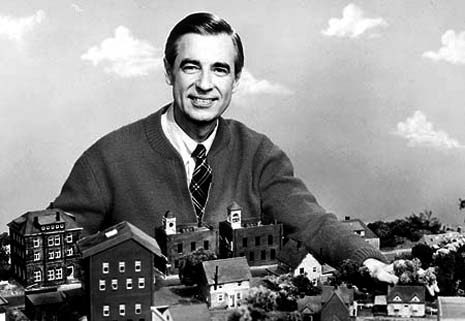 Well it's official, I hate everyone in modern society. PBS is going to stop syndicating one of the all-time best children's programs, Mr. Rogers' Neighborhood, because of "declining ratings." A spokesperson for PBS had this to say, "I'm a big fat asshole, and I don't know what the hell I'm doing."
Let's get one thing straight (3 things actually), Fred Rogers rules as a person, as an educator and as a TV host. He was more than a host really. He created the show, wrote the scripts, wrote all the songs and even did the voices of the puppets, for 33 years! Mr. Rogers' Neighborhood was a labor of love and all kidding aside I think Fred Rogers was an incredibly great man. The world needs more people like him.
I guess I'm so pissed because here's another example of how our society has changed for the worse. Kids need to practically have a seizure from bright colors and flashing bullshit or they won't watch a TV show. You know what, that's not true. Kids have not changed but what they are exposed to has. I loved – LOVED – Mr. Rogers when I was a kid and I know for a fact he helped shape me into the person I am today. OK, maybe I shouldn't use myself as an example of a Mr. Rogers success story but he must have helped some other people grow into normal, happy people.
You know what PBS, Fred Rogers was there for you when the government was going to cut your funding in half. In fact he saved your nerd asses with a simple 7 minute speech to a Senate subcommittee in 1969. How about you repay the favor and keep this amazing, timeless show on the air.
SAVE MR. ROGERS' NEIGHBORHOOD by clicking here

Watch this clip and tell me this guy doesn't rule.

18 comments to "PBS for getting rid of Mr. Rogers' Neighborhood!"
That sucks.

So much for a beautiful day in the neighborhood…… Assholes.

#

Paul Q in St. Paul

on 04 Sep 2008 at 9:38 pm

I loved taking the train to the Land of Make-Believe. I wish kids had the patience to make the trip today. If you ever hanker to watch a more contemporary children's show that doesn't feel like a video game or a commercial or that fucking High School Musical – which is toddler fare now, check out Bill Cosby's animated Little Bill show, which goes with the book series. It is slow and sweet and actually teaches character. Back in the day, Mister Rogers was great. He made that Presbyterian minister cadence seem almost benign. I'd even have him as my neighbor.

#

T-Rav

on 04 Sep 2008 at 9:44 pm

For the changing of the shoes schtick he did,he was awesome,who else does that?Fred Rogers rules!

I honestly do love the guy. I know there are things about him and his show that would be easy to make fun of but I just can't do it. I feel like he's family and I guess in some ways he is.

#

Fartface

on 14 Sep 2008 at 12:40 pm

Um, I am going to have to disagree with you. Although that I do agree that Mister definitely was successful in terms of his labor of love, was just not entertaining to me. As a tender three year old I had some serious opinions made. I loved -LOVED – Sesame Street, but I cried every time Mr. Rogers Neighborhood graced the television screen. Ok, and the only exception was the crayon factory clip. The fish feeding wasn't bad either. Mister McFeely was sort of hot…The point is, not everyone loved the show. I definitely thought it was boring most of the time. There were plenty of other programs in the 80's that outranked Mister (Letter People, Sesame Street, Zoobilee Zoo), and to be honest I am surprised it lasted another nearly 30 years.

Anyways, business is business, if the kids aren't watching, than who is going to?

Fartface (nice), forget the 80's, I'm talking 70's when TVs still only had about 10 channels.

#

King Friday

on 15 Sep 2008 at 5:36 am

That brought back some memories. We only got one channel over the rabbit ears, and I used to watch Mr. Rogers twice a day. I remember all the songs and everything, but I don't really think I knew what they meant. Watching the clip, I realized those songs and rhymes were about proper behavior, but I'm not sure I understood that as a kid. And when he said that "you are special, just for being you" I never thought he was talking to me or that what he said applied to me. Do you guys feel the same, or am I crazy?
I completely agree with the article, though. He was a great man, and the clip of him talking in the senate was pretty amazing.

King Friday, I actually did think Mr. Rogers was talking directly to me. So much so that my mom tells me that I used to talk back to the TV. You may have absorbed more from Mr. Rogers than you realize.

#

Krut

on 16 Sep 2008 at 3:54 pm

Great article and video… I'm sitting at my desk trying not to get all teary eyed (and pretending to yawn instead). I used to watch Mr. Rogers quite a bit in the mid-80s, and even though there were a lot of flashier shows, I realize now that Mr. Rogers was more or less fighting for my moral soul in trying to teach me proper decency and respect for my fellow man…

It's a shame that he lost that battle and I'm now a disgusting example of a human being. But at least now I have a cardigan fetish!

But yes, Linda Simensky will certainly be receiving a message from me to support our beloved Mr. Rogers.

Krut, I know, that clip chokes me up too. You may be disgusting now but Mr. Rogers would tell you it's OK.

#

Tinman

on 23 Sep 2008 at 8:29 pm

I forgot about the rockness that was Mr. Rogers until I read this post…

That is the one show made for children I would willingly watch again… Hell, my friends and I are even celebrating "Mr.Rogers Memorial Day" on December 1st…

Awesome post, and thanks for that video.

Tinman, Fred was the man! I love that video of him, it always gets me choked up, every time.

#

Benn

on 30 Sep 2008 at 10:49 pm

I would have to say that these are the nicest comments on this site.
And I completely understand, he deserves this. And if anybody were to say that they truly hated The Great Mister Rogers they would go to "Hell."
The nicest, most pure broadcast to ever grace the terrible television. It is a shame that he can no longer teach our children.
And anybody that thinks he doesn't deserve to be on the air: I hope you die.

Benn, I have to say your mix of gentle praise and rage-filled hate is cracking me up. And you breeze back and forth so effortlessly, I love it.

#

Sethbot

on 04 Nov 2008 at 10:51 am

Rogers TOTALLY RULED. He was the kind of person I wish was running for President. This is what the world needs.
We are lost without Fred.
He rules, and you rule for standing up to say so.
🙂
Thanks!
I miss Fred.
🙁

it wasn't easy being a kid, those were some turbulent times.
I remember when we moved to a new town for like the 5th time. I grew up in the south and we just moved to the Northeast. It's the middle of the kindergarden school year, so I'm the new kid with who talked kind of funny. Everyday I was told I was stupid and bullied. When I tried to fight back I would get in trouble for starting a fight. Mind you, I was never very big or tough. Then you had the kids in 2nd grade who would make fun of you on the bus because you did not know how to read any of the words in your "little golden books" in your backpack.

But I had one friend. Everyday I would come home to one friend. And he didn't care if I didn't know how to read my "pokey the puppy" golden book. and he forgave me for accidently breaking my grandma's unbrella. And he never would make fun of me. He said I was special, one of a kind. And he taught me that I shouldn't hit my little brother. and he loved me. I never even met the man! I still love mister rogers. And he never let me down when I got older like Michael Jackson did. He was a good man. And he loved us. We don't have a lot of heros anymore. A true hero. A saint.

Mike, it's true, he really did care about each and every one of us snot-nosed brats and somehow he was able to convey that through the TV. It's hard to think of one bad thing about the guy.

#

Alison

on 20 Aug 2010 at 2:49 pm

you gotta check out Garbage Pail Kids the movie. Major kiddie nightmare material here.