Jul 02 2010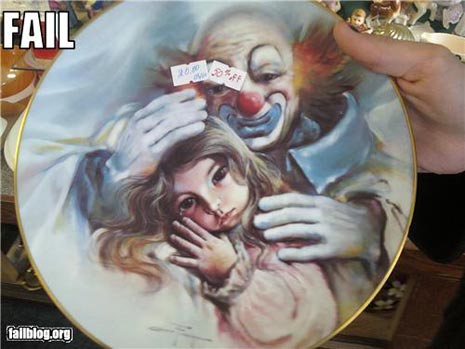 WHOOPS! All day yesterday I thought it was Friday. Guess what I don't do on Friday? That's right, I don't share my hilariously important opinions on Fridays.
So everyone loses! Well, maybe we all won.
I feel that I owe you something, so here's further proof that God hates parkour and does his best to sterilize all who participate in it.
Happy Birthday America! You are the best and never do anything wrong!
7 comments to "EPIC FAIL!"
#

Tommy

on 02 Jul 2010 at 10:19 am

thanks….thanks a lot

#

rachel

on 02 Jul 2010 at 11:35 am

i never knew that "parkour" was called "parkour" until your hilarious rant. in these parts we always called it "freestyle walking". either way, happy 4th, a-hole.

*is that your hand holding the clown plate?*

#

Amy Louise

on 02 Jul 2010 at 11:47 am

HAHA so funny, I actually saw this exact pic this morning and thought to myself- My god, that is extreme awesomeness!! I MUST HAVE IT!!!

#

Jim Jones

on 02 Jul 2010 at 1:22 pm

When did Stephen King start marketing plates based on his books? That is creepy as hell.

wow, Listy – you really fucked up this time.

#

Adi

on 02 Jul 2010 at 7:01 pm

I'll be honest, i think it would rule to be able to do parkour, but i wouldn't want to learn it. Seeing assholes jumping around for no apparent reason would piss me off, and i'm not into getting my junk crushed on a bench. Besides it's always hipster assholes doing it, not people who would really need to run from the fuzz like that cat in the beginning of casino royale. I can just see some trendy jackass being approached by the cops and thinking "oh shit, i've got some unprescribed adderall on me, time to hop over some benches!"

That plate is awesome.

#

aka kevinn

on 03 Mar 2011 at 9:13 pm

if you look on the back of the plate it has a pedobear seal of approval sticker