Jul 08 2010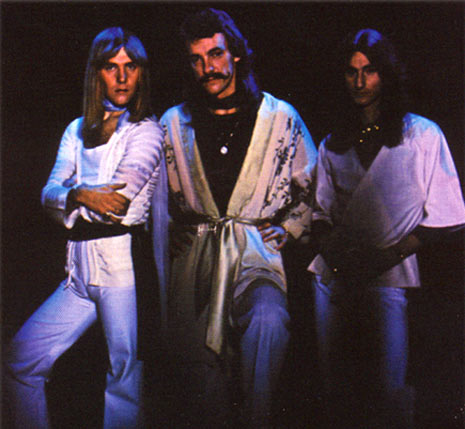 What's wrong Rush, afraid of a little rain? What's the deal Geddy, didn't want the moist air to wreck your beautiful hair? Pussholes!
Thanks for making me drive through Chicago rush (hey!) hour traffic, park, take a shuttle filled with inconceivable body odor, stand outside in the rain for an hour and buy (and drink) an $11 Bud Light just so you can cancel the concert. I drank a God Damn Bud Light for you fucking hosers!
Then you have the unbelievable nerve, the unmitigated gall, to reschedule the concert on 9/11. Take off, eh! It's official, Rush hates America.
Oh, and you owe my friend an umbrella to replace the one the cock-licking cock-ass venue security confiscated.
And once again, fuck you Chicago weather!
19 comments to "Canadian rock bands who are afraid of rain!"
#

Jeff

on 08 Jul 2010 at 4:01 am

Thank you for serving as a living example of why I never go to concerts.

Sorry, my king–I'm not with you on this one. Rush are gods and can do no wrong. Geddy Lee could throw a newborn baby into moving traffic without tarnishing my high opinion of him. Notwithstanding some poor fashion decisions in the 70s-80s (we all committed faux pas), they are brilliant virtuoso musicians. Check out the new documentary "Behind the Lighted Stage."

That said, I'm sorry the (non) concert experience was bad. Last time I saw Rush, I had to spend four hours in the car in a traffic jam getting to a venue that was only thirty miles from home. Fuck you, Blossom Music Center.

I love you Rush.

#

Jonathan

on 08 Jul 2010 at 8:49 am

Wow, there's a concert venue named for Blossom?? Is it next to the Joey Russo Convention Center?

Whoooa.

#

Tosha

on 08 Jul 2010 at 9:34 am

Peter Frampton was about to play a show here in Oklahoma this last Tuesday night when a flash flood washed away the tent, the stage, and broke a roadie's leg.

First time commenting, but have been reading since the beginning – love you Listy.

Tosha – I love you more.

Yes, RUSH owes me an umbrella. A nice one. Don't forget the $9.50 tasteless Philly Cheesesteak to go along with the $11 Bud Light. Oh, and the $9.50 added to EVERYONE'S ticket for parking regardless of whether or not they used it. Take off indeed.

#

Erica

on 08 Jul 2010 at 10:40 am

OK, since we are on the subject…I once waited 5 hours in a steaming venue with smelly rockers to see Guns N' Roses! And this was AFTER seeing the opening bands. Pain in the ass prima donna Axl Rose was there but refused to come out. He is the world's biggest dick. I hate him and his stupid fucking headband.

Shocked by the Rush story as they are pretty solid with their concerts (my husband has been to no less than 10 of them). But that picture alone makes it almost OK considering the humiliation already endured!!

And why didn't you just drink your own piss? It tastes better than Bud Light.

#

Tommy

on 08 Jul 2010 at 11:35 am

hmmm, i walked to a concert last night. you know…new music. serves you right for going to see rush

#

Jay

on 08 Jul 2010 at 12:44 pm

Ouch, that doesn't sound like fun. We don't have bad weather where I live, so I'm sure the Rush concert I'll be attending on August 13 will rock as scheduled, looking forward to it.

#

caleb

on 08 Jul 2010 at 2:52 pm

i once saw The Cure play an outdoor show in Chicago on a miserably hot & humid august afternoon. The Cure should NEVER perform in the day time. it just makes them look goofy. though it was funny seeing thousands of people with their goth makeup running down their sweaty faces.

thats pretty much my only negative big concert experience.

i also once walked from uptown minneapolis to st. paul in a blizzard to see an indie band that i like play, only to get there and find out that their van was stuck in a snowdrift in wyoming. i didn't have any money so i couldn't just stay and drink at the bar. i had to walk all the way back home in the blizzard alone and sober. that sucked.

#

Jonathan

on 08 Jul 2010 at 3:25 pm

LISTY:

http://www.usatoday.com/money/industries/retail/2010-07-08-retailweddings08_ST_N.htm

This is just fucking STUPID. This is LAME, PATHETIC, AND SAD. I HATE THESE PEOPLE.

PS: I would've sent this to you privately so you could then rant about it, but we're not Facebook friends. 🙁

As a Canadian, I never thought I'd have to apologize for Rush, but this? What asses!

I'll bet rescheduling for 9/11 was just that extra little "fuck you" you needed while gagging on $11 taint-water.

I said to our intern (22) the other day "this Death Cab song sound like a Rush song" and he said "Rush? Who's Rush"?

Who Is Rush.

Of course I busted into Tom Sawyer. And Limelight.

He just stared at me and shrugged his shoulders.

I've never felt so lost and confused. Is it Boston? Is it his age? How do I begin to educate this young man?

Creature – Your intern is a tool. Forget trying to educate him. Unless Rush becomes ironic he's never going to be interested.

#

Dub P

on 14 Jul 2010 at 11:42 am

So, your first mistake was buying a ticket to a concert for such a cock-munching band like Rush. Why not check out a quality band like Nickleback if you like entertainment from north of the border? Turd.

#

Dub P

on 16 Jul 2010 at 12:55 pm

P.S. I love you.

I love me too.

[…] tonight was the rescheduled Rush concert and yes, they made up for the canceled show with free Rush hats for all! Why am I telling you this? […]