Sep 16 2010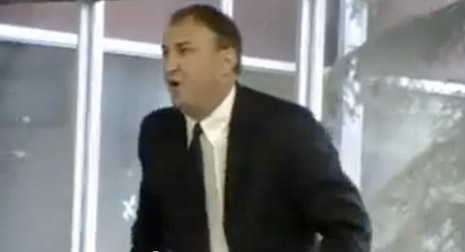 Blah blah blah, I blew off writing tonight. So in place of my passionate rant about something important, here's a fellow ranter acting like a psycho.
For the record, I know this is old news but I just saw it for the first time tonight.
10 comments to "Phil Davison! Also, I'm lazy!"
#

The Magic Man with the Magic Stick

on 16 Sep 2010 at 6:55 am

Eh… Do we need ANOTHER psychopath in a possition of power?

#

pigdoor

on 16 Sep 2010 at 9:46 am

HA HA HA…"I have a masters degree in COMMUNICATION!!!!!" Oh thats classic,HA HA HA …I HOPE HE PUT THAT ON HIS BUMPER STICKER!!!!

#

pigdoor

on 16 Sep 2010 at 9:48 am

WHAT A BOTARD!!!

I saw this for the first time a few days ago, right about when it became old news, probably…

This guy stomped around my dreamscape for half of the following night.

I have a Masters Degree… in COMMUNICATION!!!!!!

Andy Kaufman-like in its brilliance…

#

Jonathan

on 17 Sep 2010 at 9:47 am

I would vote for this guy just on the basis of this performance. I think every politician should give speeches this way.

#

lola

on 17 Sep 2010 at 3:24 pm

OMG He was actually embarrassing me from my computer! It was like he was addressing Inmates at the State Prison. " And if You Don't Vote for Me, You'll be the sorriest "Sons a Bitches" That ever had the Audacity to take a breath!"

#

HalfCrackerLA

on 17 Sep 2010 at 5:53 pm

Yeah unfortunately Mr. Kaufman has passed on so I guess Bill Murray will have to do the bio-pic.

With a little diction coaching from Sam Jackson??? yes??

#

lola

on 17 Sep 2010 at 7:31 pm

Does he moonlight as a Baptist Preacher?
Andy Kaufman Did act a little like that sometimes didn't he. How come I could stand it with Andy. I mean it's good to have passion as long as it doesn't make you shit your pants! That guy had to have shit his pants!

wtf is he okay? I can smell the sweat, caffeine and drug overdose from here. Seemed like he was an inch from going postal the whole time. Love how everyone chuckled to themselves in the audience when he said master's in communication, then shut up when they saw the CrAzY look in his eyes haha. And of course best of all is when he says "13 YEARS!" and holds up 4 fingers. Yes, I know what he meant, but it makes it no less funny after you've had a couple four lokos.