Nov 30 2010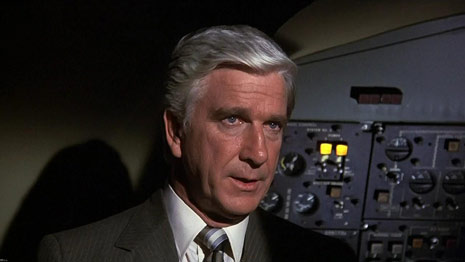 Look at me, I'm God, I hate everything, I'm jealous of people who are funnier than me so I kill them from high atop my magical cloud spaceship. I sit alone in my cloud condo eating sandwiches made out of some animal that only I know about, slowly killing off the cast of Airplane because nobody ever came to see my improv group even though I like totally put flyers up all over heaven. Peter Graves DEAD… Barbara Billingsley DEAD… Leslie Nielsen… SEE YA! Look out guy who had the starring role but nobody knows the name of, because you are next. La dee frickin' da, I'm God and I'm going to take all my toys home unless someone plays with me.
Leslie Nielsen farts on TV and you love it!
8 comments to "That humorless God, for killing Leslie Nielsen!"
#

Yours Truly

on 30 Nov 2010 at 6:30 am

I just want to tell you both good luck, we're all counting on you.

I am serious, and quit calling me Shirley.

Such a sad loss. If I'm Kareem Abdul Jabbar, I'm taking extra care these days. Robert Hays and Julie Hagerty might be wise to avoid any trips til this blows over.

Nice beaver!

#

kidda

on 30 Nov 2010 at 1:10 pm

So he takes Frank Drebin but Nordberg is ok to live?

I used to love watching his serious movies. It was like an hour and a half of agonizing anticipation and the joke never comes to fruition.

Masochism *shudder*…

#

Paul from Saint Paul

on 30 Nov 2010 at 7:03 pm

No actor could get so lost in an aside like Leslie Nielsen:

http://www.youtube.com/watch?v=i8PZFQz-qmo&feature=related

God rest.

And fix your spelling of his last name! The googlers will never find him here otherwise.

Paul – I'm firing my editor! I literally spelled it wrong EVERY time.

#

Paul from Saint Paul

on 02 Dec 2010 at 6:41 pm

A remembrance:

http://www.popmatters.com/pm/post/134276-appreciating-leslie-nielsen-he-could-hold-his-breath-for-a-long-time

I must've watched Creepshow 100 times on HBO. I don't regret a second.

I love Peep show, saw it in the theater. Now stop posting links to better writers who aren't as lazy and typo-prone as me.