Jan 03 2011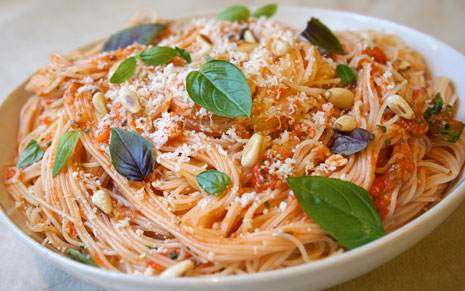 Oh thanks beautiful angel for letting me eat your sauce-soaked hair!
There's only one thing horrible enough to wake me from my recent lazy holiday writing schedule. Angel hair pasta is the pussy of all pastas. I don't mean that as a compliment, as in, angel hair pasta is awesome like female sexy parts. No, I mean angel hair pasta is the nerd of the pasta world.  Spaghetti is James Brown* and angel hair pasta is the Spin Doctors.**
I think I would rather eat actual hair than ever put another lifeless, slippery tangle of angel hair nonsense in my pretty mouth. Plus, angel hair pasta is always slimy and over-cooked because it's so fucking thin it's practically already cooked just from being near a boiling pot of water. It's like when a little kid pukes just from seeing a roller coaster whiz by. At least in that scenario the people on the roller coaster are having fun, with angel hair pasta everybody loses.
*This could either be the young James Brown or the old drugged out, bat-shit crazy James Brown.
**Pick any era of the Spin Doctors you want.

24 comments to "Angel hair pasta!"