Feb 16 2011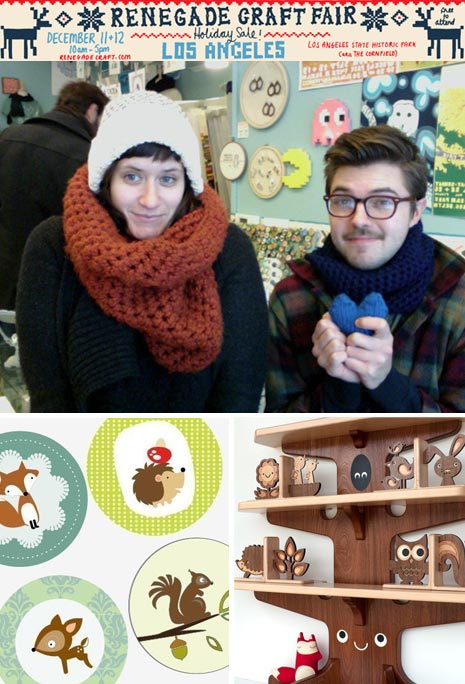 Enough already.
Hey hand-made crafting hipster nerds, let's move on to the next fad, shall we? If I see one more cutesy retro squirrel I am going to drop my pants, pull out my wang and fuck it. I don't care what it is, it's getting fucked. Letterpress card… fucked! Pillow… fucked! T-shirt (on a hanger or being worn)… fucked! Tattoo on your face… FUCKED!
Have you ever gone to a Renegade Craft Fair? Just try and find something without a whimsical cute thing on it. What is this desire to live life as a 6-year-old? Yeah, it was fun being a kid but I've moved on to more worthwhile things and I enjoy doing adult things like driving a car and putting breasts in my hands. Do you realize I could go buy a chainsaw RIGHT NOW if I felt like it? That's what being a grown up is all about, boobs and chainsaws.
PUT A BIRD ON IT!
12 comments to "Whimsy!"
#

Magic Man

on 16 Feb 2011 at 11:10 am

Where did it all go so wrong? WHERE!!!? When did we lose our track of reality like this? People like this would be put in mental institutions back in the day. Lock me inside my house and throw away the key please.

#

Diss Content

on 16 Feb 2011 at 11:59 am

This is one of those categories that trigger some primal nerve of destruction which I simply can't control. This includes, but certainly is not limited to; the Snuggle bear, anything associated with Precious Moments, Teletubbies and that talking flute named Freddy from H R Pufnstuff.

Whimsy? More like creepy, nothing has ever existed that resembles these things you detached group of self proclaimed sensitive people. Oh, handmade is better. Well then how about a handmade ditch being dug or some good old hand harvested potatoes from several square miles of dirt?

I get it you just want to hand make things that are manufactured in your mother's spare bedroom where you help out around the house and feed some fantasy that you are a contributing member of society with a skill making a sock puppet every other week for the Renegade (so dangerous) Craft Fair.

Guess what? I got a fever and the only prescription is joining Listy in some long overdue, craft fornication delivered with the same delicacy and speed of a runaway freight train.

"I enjoy doing adult things like driving a car and putting breasts in my hands."

I have no further comments here – this says it all.

#

Rachel

on 16 Feb 2011 at 12:31 pm

before i scrolled down, my first thought was "he needs to see, Put a Bird on It!" then, boom. you already knew. Portlandia is the best thing on TV.

#

sara

on 16 Feb 2011 at 1:54 pm

Portland, where adults go to retire

I can never figure out if these people are having a hard time outgrowing childhood or have jumped right ahead to senile cutesy poo, knitting GIANT EYED chipmunk toilet paper cozies just screams "end of life" or is it "end your life"?
END YOUR LIFE!!

#

vmabuck

on 16 Feb 2011 at 2:16 pm

I got a chainsaw in the mail the other day. The odd thing is I did not order one. I am just going with it…

#

blauer

on 20 Feb 2011 at 4:45 pm

You forgot to mention the fact the only slapdicks wear scarfs. Indoors.

I, too, was thinking of "Put a bird on it!" and "Cacao. Cacao!" but since that's been covered allow me to applaud the breadth and depth of subject — I love Listy for taking the time not just to nitpick specialty subgenres that suck, but wide, formal ideas (such as the whole concept of "whimsy" in general) that need to be dismantled via scathing wit and YouTube clips. I love you now and forever. xoxoxoxo

ps: have you seen lookbook.nu? kids are sullenly expressing their individuality while doing an advert for mass big-box retailers. and voting.

#

Yubbers

on 24 Mar 2011 at 6:50 am

Hey Listy,

The Renegade Craft Fair does indeed suck in too many ways to aggravate myself with at the moment.

I just wanted to clue you in (in case you didn't know already) that if you want to head to a real craft fair, with ligit artisans, and a variety of things you'll actually treasure after buying them- head to Galena during October. They have a craft fair every year, with the surrounding hotels and B&B's selling out months ahead of time. It's well worth the time and makes for a sweet getaway.

My recommendations to you.

And now I must go.

#

Idon'twantyoutoknow

on 23 May 2011 at 5:06 pm

So I just wrapped up my 2nd Renegade in Austin – and it does SUCK! So many hipster artists from across the US and all their stuff looked exactly the same. It was all one of the following:

* quirky/cute illustrated prints
* Psuedo-mod printed tees and textiles
* Ironic baby stuff
* jewelry
Definitely a few great vendors – but mostly bleh. Shoppers were bleh. Renegade- bleh.

#

Amy

on 30 Nov 2013 at 9:04 am

Me and my daughters love crafting. Are you against crafting? And are you against creativity and toys? Are you against CHILDHOOD?! What a terrible thing to say!

#

thealefamily25

on 06 Dec 2013 at 8:38 pm

OMG, Amy, why are we complete opposites! I, like you Listy, am against whimsy and crafting. I have better things to do with my time, like chug beer, smoke cigars at bars, take illegal drugs, touch myself, yell at my stupid kids, cuss my head off, and other inappropriate stuff!!