Jul 21 2008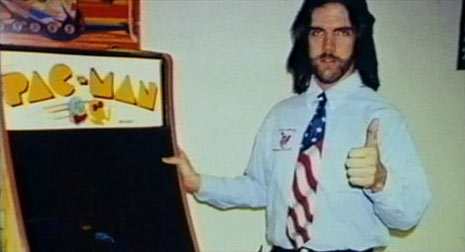 Have you seen the documentary The King of Kong: A Fistful of Quarters yet? If not, hurry the hell up because it rules. You know what doesn't rule, Billy Mitchell and his little disciple Brian Kuh. They suck very hard.
It has nothing to do with the possibility that Billy cheated or the fact that he won't break world records at the little Twin Galaxies festival of virgins, I just can't stand the guy. He's the worst kind of nerd, arrogant and with zero self-awareness. I like my nerds to be fearful and lonely. I want them to flinch when I fake punch them.
It's no wonder Billy Mitchell walks around like the Arthur Fonzarelli of the arcade. He is literally worshiped by a small but devoted group of video game dorks. Adult video game dorks. He is king of the dorks. And what a heroic figure he is with his beautiful, long, 1984 porno hair and his novelty, America-themed neckties. He's like a cross between Jesus and Chewbacca.
Every night before bed Billy has to remove Brian Kuh from his ass. If Billy Mitchell is king of the dorks then Brian is… well… Brian is just a fucking dork! I just came to a startling realization, Billy Mitchell IS cool. I mean in his world he does deserve to be king. He hangs out with 40 year old guys who still play Marble Madness WITH THEIR FEET. I'm going to go out on a limb here and guess that Billy Mitchell is the only member of Twin Galaxies who has ever kissed a girl.
Maybe I'm jealous of Billy Mitchell. Maybe I want to be Billy Mitchell. I'm just kidding, I was trying to sound like a real writer coming to some stupid realization. No, the truth is I can't stand Billy and Brian Kuh and people who play Marble Madness with their feet.
I am not including Roy "Mr. Awesome" Shildt in the dork category. He is, in fact, AWESOME!

62 comments to "Billy Mitchell and his little Bitch Brian Kuh!"