Oct 07 2008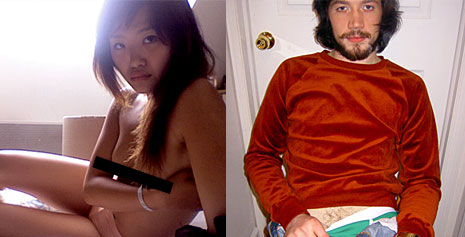 After spending less than 3 minutes on the American Apparel website I am ready to go on a killing spree. I hate EVERYTHING about American Apparel!
Where do I even fucking start? Let's start with their clothing. Sure, these guys make a good basic T-shirt but does anyone really need a shiny gold body suit? These assholes aren't embarrassed to sell fanny packs and apparently ironic hipsters aren't embarrassed to buy them. The fact that American Apparel can actually make hipster jerks buy fanny packs is pretty much all you need to know about how ridiculous American Apparel and hipsters are. I bet American Apparel could get hipsters to wear adult diapers. If I see diapers on their website I'm fucking suing.
The most obvious thing to hate about American Apparel is their cheap, snuff film style photography. I find it a little distracting when I'm staring at some dirty scumbag's pubes or a girl who looks like she was just pulled into a van and will never see her family again. In fact, just now when I went to their website this is what I was greeted with (fair warning, nudity). I am not offended by nudity but I am offended by this obvious attempt to look edgy or cool or whatever the hell they think they are. Who wants to buy clothes from a company whose website looks like an underground, teenage prostitution catalog?
Their founder, Dov Charney, is a supreme douchebag who famously couldn't help but masturbate several times in front of a female 'Jane Magazine' writer during an interview. This king of the turds also has countless sexual harassment lawsuits against him, what a shocker!
I have to go vomit into my fanny pack.
6 comments to "American Apparel, their ironic clothes and their porn photography!"