Oct 15 2008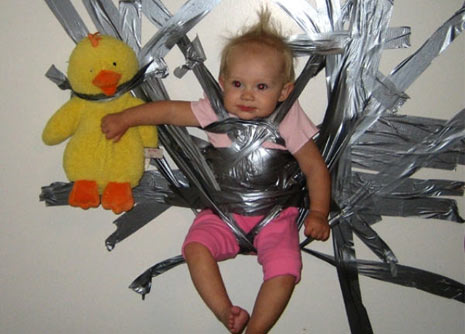 A friend of mine made me aware of this ass-munching, shit-for-brains, redneck today and I almost wish he hadn't. This idiot, Mark Ciptak (pronounced Shit-Pack or possibly Shit-Tank), went behind his wife's back and named his baby daughter "Sarah McCain Palin Ciptak" in order to "take one for the cause." Sorry asshole, it was actually your poor kid who took one for the cause don't you think? America, please say hello to Joe fucking Six Pack! I wonder what Sarah McCain Palin Ciptak will use as her stripper name in 18 years? Probably "Crystal" or "Cheyenne" like the rest of them.
Here's what my friend said in his email, I thought it was funny…
"Way to go dipshit… maybe you can name your next kid "My Dad's a Selfish Moron Who doesn't Think About Anything Beyond the Next 2 Weeks Ciptak"… that is the next kid he has with his next wife. Make the most of your weekend visits with lil' Sarah McCain Palin, fuckface.
There you can pretty much just cut and paste most of the above on your blog. Thanks for the credit… I guess i just made your list… sorta"
11 comments to "Mark Ciptak for naming his baby "Sarah McCain Palin Ciptak" without telling his wife!"