Oct 20 2008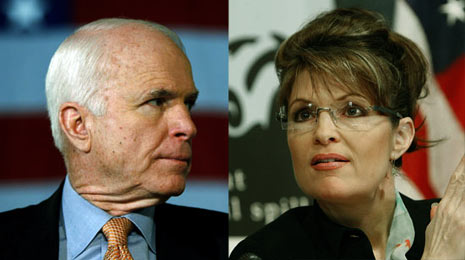 I would really rather be writing about something frivolous but I just can't bite my tongue about this disgusting duo and what they have been up to the last week.
John McCain and Sarah Palin should be ashamed of themselves for calling Barack Obama a terrorist. Don't try and argue that they are not calling him a terrorist because that is exactly what they are doing and they know it. They also know it is a lie, a bald-faced lie. In a freshly post-9/11 America accusing someone of "palling around with terrorists" when the well-documented facts state otherwise is reprehensible. It literally makes me sick to my stomach to think they are willing to sink this low. McCain/Palin rallies sound like Klan rallies as they whip the lunatic fringe of the right wing into a hate-filled frenzy.
When Obama becomes President what happens when one of these idiots decides to assassinate this man because fucking moronic Sarah Palin has convinced them he is a terrorist? Do you think John McCain and Sarah Palin could sleep at night without feeling remorse if that were to happen? I don't know the answer, but I sure as hell could not live with myself if I was to sink as low as they have. How can they treat a fellow AMERICAN and a FATHER of two young children like this? They should be ashamed of themselves.
They are playing a desperate and dangerous game and I have lost ALL respect for John McCain. I never had any respect for Sarah Palin so it's business as usual when it comes to her. How can this man who suffered in a cage for 4 years in the name of America be willing to SHIT all over everything America stands for? Not the most Christian way to carry yourself is it John and Sarah? Do you think Jesus would approve of such loose morals?
Let's not forget that Sarah pals around with, and her husband belongs to, the Alaskan Independence Party, an organization whose founder said…
"the fires of hell are frozen glaciers compared to my hatred for the American government, and I won't be buried under their damn flag."
Does this sound like the kind of person we want in the white house?
11 comments to "John McCain, Sarah Palin and the Republican party!"