Oct 21 2008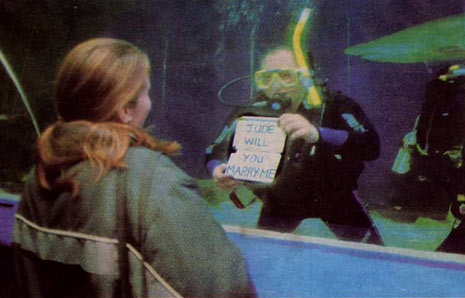 I know this makes me a dick but I just can't stand wacky, public marriage proposals. When I see some turd at some at some sporting event publicly professing his turd love to some turdy woman I just want to throw my nachos at them. This is only a fantasy however because those nachos probably cost $12 dollars and I am going to literally lick that plastic tray clean to get my money's worth.
So what makes me, the cheese licking tightwad, so much better than the aforementioned turd who simply wants to express his love in front of a bunch of drunks just so he can get on the news? I just am!
I can't be the only person who does not feel the need to witness other people's proposals. It's a private moment so keep it the hell out of my nachos.
7 comments to "Wacky marriage proposals!"