Oct 30 2008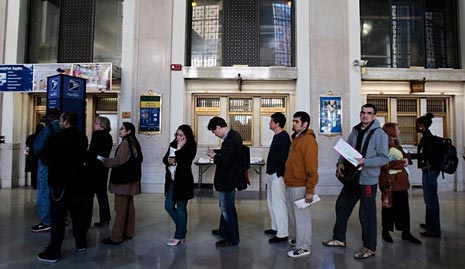 Hey, you know what could make this long line go faster? Listening to you complain about it for 20 minutes!
We all feel the same way when we open the door at the post office and see a long line. One of two words is usually whispered at this point, one begins with an F and the other an S. I go with the classic F-word but then I get over it and wait like everyone else.
But there is a different breed of person out there whose sole purpose on earth is to make an already long line feel even longer with constant sighs and groans. They shift from foot to foot and dramatically look down the line in an attempt to understand how there could POSSIBLY be a line at the post office 5 days before Christmas. They fold their arms while they huff and puff over this tragedy against mankind.
Oh no, it does not stop there does it. These annoying turds have one more trick up their sleeves and this is what really gets my blood boiling. These assholes love to try and draw everyone into some sort of customer revolt. They start to say things like, "can you believe this" or "this is ridiculous, why don't they hire more people?" They assume just because you are stuck in the same line you will agree to join the killing spree they are planning. Look guy, I just want to mail these Star Wars figures to the guy who won them on Ebay, I don't need to join your militia.
One time, while waiting in line for a rental car, this guy in line was losing his shit to the point where he drafted a crazy person petition and asked all of us to sign it. I have no idea what we would have been agreeing to exactly, but obviously everyone ignored him. I should also mention that we only waited in this line for approximately 6-8 minutes. I'm surprised we all lived through such hell!
I see the obvious irony in complaining about other people complaining so shut up.
12 comments to "People who get overly upset in long lines and never shut up about it!"