Jul 22 2008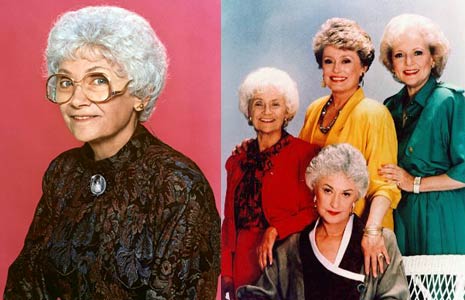 Way to go God, ya jerk! You think it's funny to take Golden Girls star Estelle Getty just three days before her 85th birthday? Is that funny to you tough guy?
Estelle Getty was by far my favorite Golden Girl. For those of you who think it's more important to read a book than watch awesome TV, Estelle played the part of the sassy but classy Sophia Petrillo, mother of Bea Arthur's character Dorthy Zbornak although she was actually younger than Bea. Estelle Getty was genuinely funny as Sophia and I highly recommend you stop reading that stupid book of yours and go buy every DVD box set of the Golden Girls immediately.
You will be missed Estelle!
2 comments to "God, for killing Estelle Getty!"
#

Paul Q in St. Paul

on 23 Jul 2008 at 10:26 am

Don't feel so sad. She had suffered dementia for years, and her death came undoubtedly easier for her and her family than for you, upcoming birthday or not. And if you're like me, you got to find out little gems in her obits, like she had been kicking around for sixty years – including a failed stint doing stand-up in the Catskills way back in the day – before she got her big break as an actress that made her lifelong dream come true. Lesson from Estelle Getty: Stay resolved in reaching your goals, even if it means begging somebody in the make-up department to make you look eighty so you can score on your third audition. And remember, G-d needs laffs in heaven, too.

#

Ahksehl83

on 01 Jul 2013 at 12:55 pm

If you had a "favorite" golden girl, then you have a bigger problem than losing one of them.