Jul 24 2008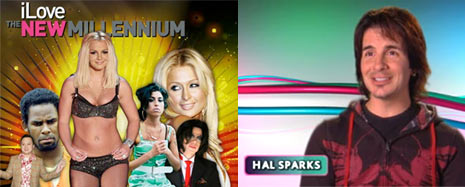 Come on, really? Are you fucking kidding me? Is VH1 really so bored that they need to pull Hal Sparks and Michael Ian Black out of the mothballs to make snarky comments on the ACTUAL DECADE WE ARE CURRENTLY LIVING IN?
Hey, who remembers hurricane Katrina? That was hilarious! Remember Paris Hilton? What ever happened to her? And just who DID let the dogs out? Is this show real or is it an elaborate hoax created by my enemies to give me a rage-induced heart attack?
OK, here's the deal. I liked "I Love the 80's" the first time around. In fact I watched all ten episodes in a row at my friend's house. I was moderately amused by "I Love the 70's." Then came "I Love the 90's" and I was starting to fantasize about different ways to murder Hal Sparks. What's next "I Love right now" where Michael Ian Black discusses what Hal Sparks just said and Hal Sparks discusses what Michael Ian Black just said in a never-ending loop?
Stop it VH1. You are making me dislike Michael Ian Black, a person I happen to really like otherwise. On the other hand, I could give two shits about Hal Sparks and his crap heavy metal band. How can you possibly sound heavy and awesome if the name of your band is "The Hal Sparks Band?"
"Dude, why are your ears bleeding?"
"Oh, I was just listening to The Hal Sparks Band."
VH1, stop before you kill again. Let Hal go back to his first love, trying to find leather pants in toddler sizes so he can look tough.
2 comments to "VH1's I Love the New Millennium!"
This was on the other day and I could not believe it……fucking ridiculous.

#

Mr. Kickers Sr.

on 14 Aug 2008 at 1:00 am

If you didn't like that VH1 show, you are going to hate "VH1's 'I Love 10 minutes ago'".

America is going to have to start cranking out pop culture a little faster if VH1 continues at this rate, or develop "I'm Going To Love the '10s" – a nostalgic look forward at a time in pop culture history that has not happened yet.

Remember, when VH1 used to be awesome? When it debuted they would play the same four light rock/adult contemporary videos on a simultaneous loop. My mom could take valium and travel to her happy place with a little help from Wilson Phillips…but, alas, those days are over…