Dec 03 2008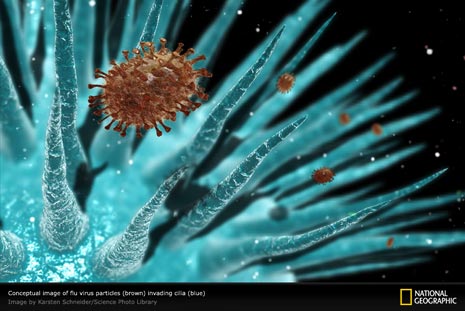 I rarely get sick anymore thanks to a year I spent working out of a friend's home. Her kids showered me in sneezes, boogers and dirty hands giving me every virus known to man in the process. I was literally sick for at least 3 months straight. Now, thanks to my new super immune system and relatively clean living, I only get sick about once a year. Now is that time.
I want to die. I hate being sick. All I can think about is the fact that I can't remember what it feels like NOT to be sick.
Sorry, this is a boring post but I'M SICK!
I also hate that girl, Kari Byron, on Mythbusters. She is about 93% less hot than she thinks she is. I proved it with science.
30 comments to "Being sick!"
#

Will

on 03 Dec 2008 at 3:06 am

Is it "Manflu" that you have, or are you just sick, I say that knowing that with Manflu if you dont get enough love and attention from your woman……….You can DIE!!!!

#

civilchick

on 03 Dec 2008 at 1:15 pm

I think we must have similar immune systems, although my is supersized thanks to living with slobs in college but I feel the same way when I actually get sick. Like I may, in fact, die at any second. Which is probably why you hate that dipshit mythbusters girl with the goofy hair. Seriously, who told her that orange hair is hot?? I think they lied to her. Mythbusters came to my college last year and I was going to go back for the presentation until i found out that it was only her and the asian guy. No thanks. I really didnt want to drive across the state to see the two most annoying members of the show.

Will–the "manflu" truly made me giggle like a little girl. Nicely done sir! My guy sucks at being sick and always has a healthy dose of manflu with whatever other symptoms he is feeling.

#

Solomon808

on 03 Dec 2008 at 5:34 pm

You must be sick!

Um, Kerry is a total hottie. Trufax.

#

Yubbers

on 04 Dec 2008 at 12:53 am

You know there's about 3.4 thousand women who would love to take care of you while you're sick. You make us laugh to the point of making our boyfriends (or wannabe boyfriends) jealous. Get better damnit!! We don't like to fantasize!

#

SanFran

on 04 Dec 2008 at 10:52 am

I'm the most impatient patient EVAR. Being sick means downtime, downtime is a waste of time, life is too short to waste time.

Heck, the reason I don't ever even try to tie a buzz on, let alone get blotto drunk, is because I hate feeling off-kilter the next day.

I'm with you here – I'm also getting my first flu shot this year. Last year was a doozy.

I'm feeling much better today. I think I'm back. I'M BACK BABY!

Yubbers, I want names and phone numbers immediately. I would love a Harem!

I'm with you on Kari Byron. She did that barftastic photoshoot with FHM. Good God WHY? She looks like someone lit her face on fire and tried to put it out with an ice pick.

#

Yubbers

on 05 Dec 2008 at 6:43 am

Oh~ You would have had your Harem if you were still sick.

#

zoete

on 09 Apr 2009 at 2:26 am

i like that chick Kari Byron.. its that scum bag Grant i cant stand.. total nerdy.. and laughs way too much.. and have u looked at his eyes..he looks like an alien or something. just a total weirdo.

Zoete – They all laugh too much in an attempt to be like Adam. Fart on them all (but mostly Kari)!

#

zoete

on 19 Apr 2009 at 5:36 pm

You Just Made My List – yeah. they all have the giggles .. they dont take much seriously. and they dont try to bust any good myths.. all they try to bust are movie myths..come on the things they are trying to bust are in Hollywood movies. why dont they try to bust some of the conspiracy myths like the one about bombs in the WTC.. on their website they say they will delete any posts about the WTC attacks.. how lame

#

what

on 23 Apr 2009 at 4:06 pm

I hate mythbuster.. everytime i tune into discovery channel, it's either mythbusters or that lame deadliest cath show. what is wrong with discovery channel now?!

#

urlame

on 30 May 2009 at 10:47 pm

Don't be a h8r. Kari is smokin'! Hot isn't always about about physical perfection. Her smart, nerdy, artsy side way more than compensates for anything she's physically lacking (which I can't see). I'd take her over the minions of pretty empty-headed chix on E!

(Sorry ur not feelin well.)

Kari (I thought it was Kerry but now I know better) is super annoying. All those B-team Mythbusters are. Sorry, she's not my type and she makes my balls shrivel into my body.

#

JD

on 30 Sep 2009 at 8:49 pm

mary-sue, her name is Kari. And she thinks she is awesome, but she is just a stuck up bitch. Pass on that.

Excuse me? Kari Byron is very hot and I would sex her up even though she just had a baby…..

#

Buster

on 03 May 2010 at 7:23 am

Kari Byron is on a mission to bust all myths regardless of whether or not they can disprove the myth. Even when they cant disprove a myth, she gives them plausibles rather than confirmed.

She tries too hard to be a skeptic and she really isn't all that bright.

Now that you have a baby girl Kari Stupid, get off my television screen, resign from mythbusters, be a good mother and stay at home you useless twat.

#

cadillac_captain

on 24 Jun 2010 at 9:11 pm

Are you kidding me? Kari Byron is a Cutie.

I'm glad that Discovery found a curvy redhead cutie rather than the bleached plastic-chested bulimics you normally see on TV.

Although I wouldn't mind boning a girl like Paris or Jenna, a girl like Kari is someone I wouldn't mind impregnating.

Girls like Kari are rare, as they look sexier rolling out of bed than they do on the cover of FHM. I must say, she looks hotter without the makeup and professional photography.

#

annon

on 29 Oct 2010 at 3:56 am

lolumad?

#

Unnecessary Retarded

on 12 Nov 2010 at 3:54 pm

I agree about that Ugly red head from MythBusters. I saw an episode where she had to eat bugs and I was thinking the whole time: Poor Bastards. They are trying to make their show hep and the best they could do was get this scabby chick on the show?

While were at it.. JAMIE HYNEMAN's beret can suck the fattest dick in hell..

That fucking hat sucks
http://www.youjustmademylist.com/?p=2144

Sorry, Kari Byron is pretty hot.

Pffft

#

Korey

on 05 Sep 2011 at 5:37 am

Why isn't there a death penalty for even existing as Kari Byron. She is dumb AS A BLOCK OF MUD. Fuck that stupid ass bitch! She sucks. (And the other MythBuster kids suck too)

#

Korey

on 05 Sep 2011 at 5:39 am

Kari Byron is at least 87% retarded/ And also, What a fucking bitch!

DAM MAN U R THE SHIT… I THOUGHT I WAS THE ONLY ONE WHO HATED THAT IDIOT KARI BYRON… I HIT MUTE ON THE SHOWS WHENEVER THE BITCH TALKS OR TRYS TO SOUND SMART..THEY REALLY FUCKED UP THE SHOW WHEN SHE STARTED HER BULLSHIT… UGLIER THEN PISS AND SHE THINKS SHE HAS THIS KILLER BODY AND HAS HER FAT ASS CRACK HANGING OUT HER JEANS THE ENTIRE TIME… OH YA AND NOT TO MENTION HER FAT ASS ARMS SWINGING ABOUT,,, THEY SHOULD DO AN EPISODE HOW MUCH FORCE OF WIND HER LARD ASS ARMS WILL CREATE… LOL… SHE COULD PROBABLY KEEP A KITE UP IN THE AIR FOR A GOOD AMOUNT OF TIME FLAPPING AWAY,,, UGLY UGLY LADY,,, I COULD DO WITHOUT HER ON THE SHOW,,, SHE IS USELESS ON MYTHBUSTERS… TOTAL IDIOT.. HAVE A GOOD DAY MAN,,

#

Anonymous

on 03 Mar 2014 at 3:23 pm

I laugh at the fact that you think she's there to "be hot". She isn't. She's there to do her job, just like everyone else. Clearly you're not very educated about your hatred for her.

Clearly I need to do some more research on why I hate her. At least I know why I hate you.

#

Anonymous 2

on 10 Sep 2014 at 1:27 am

This is to Anonymous from 03 Mar 2014 (The second Anonymous up after this message)

She is indeed there as the "hot" one. Are you aware of how she got the job?

When the show first started she started showing up consistantly to Jamie's M5 studio asking for a job despite having no experience whatsoever. (Remember this is AFTER the show started. She came there to be on TV to satisfy her superficial ego)

Jamie kept refusing her and sending her away. Later on during the "fat woman on a airplane toilet" myth, they needed to mold a gel model of a backside of a woman. Well Jamie decided she'll do in a pinch and she got to be on TV. I guess a few people liked the way she looked (cause she didn't utter a word and was on screen for like 2 minutes max) and decided to keep her.

Remember she has no experience in this industry at all. She's an "artist" which requires no qualifications. She has no further education.

What a pathetic way to get a job. What a wonderful lesson to the kids. Even though you are unqualified, keep showing up asking for a job, and eventually you might get some pity taken on you and land the job of your dreams.

Like hell she isn't there for the looks.