May 19 2010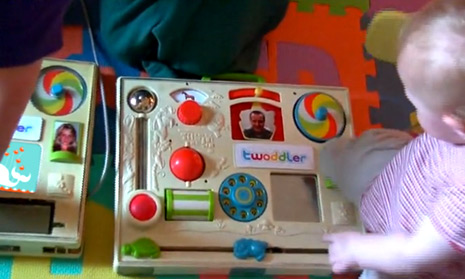 Finally there's a way I can also not care about what your baby is doing.
Let's see if I can describe this new invention without killing myself. Twoddler may look like your average Playskool activity center but this little piece of shit is hooked up to Twitter so every time little Susie moves the plastic piece with your face on it a tweet is sent to you saying something like "Hey asshole, look what I can do… randomly touch things."
Am I the last sane person on this planet? If this takes off I'm moving to a cabin in the woods. I don't want to live in a world where babies keep me up to date every minute of the day. "I C poopies on da floor. LOL." Come to think of it, how can you tell if a tweet is from a baby or an adult with the ridiculous way people write these days? I'm guessing a baby could tweet something just as intelligent as, say, Miley Cyrus.
Let's see if you can guess which of these tweets (I fucking hate that term) are from babies and which are from adults…
"jus ate sum soup"
"spendt da day on da couch in PJs – LMAO"
"life is a jurney, U just half 2 take the furst step"
"yo, yall need to see ma new crib"
See? What's the difference? It's all inane, utterly useless bullshit nobody needs to know.
Nap time!