Jun 30 2010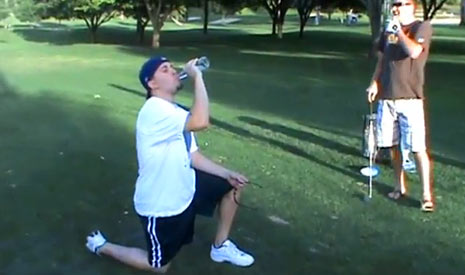 When I first heard the term "Bros Icing Bros" I thought frat boys were finally giving in to their homosexual fantasies and jerking off all over each other. "Dude, I totally just Iced all over McGillicutty's face while he was playing Guitar Hero, it was classic bro."
I have to admit, when I discovered Bros Icing Bros was less about random jizz attacks and more about forced drinking I was still intrigued. In case you have an actual life outside of the internet I will explain the rules of Icing your bros. If your bro manages to put a bottle of Smirnoff Ice in your line of vision you must immediately drop to one knee and chug the entire bottle, no matter where you are or what time of day it is. If you refuse you are to be excommunicated and shunned forever and may never be considered a bro again. HOWEVER, if you present your bro with an Ice they can "Ice block" you by presenting their own bottle of Ice, at which point the original Icer must drop to a knee and drink BOTH Smirnoff Ices.
As a concept I like this little game. Nothing is more satisfying than making your friends miserable. So on the surface, bros icing bros has some merit. HOWEVER, like most things dude-types participate in, the concept is lost in poor execution. Rather than coming up with a creative way to make their friends happen upon an Ice, most of these bros simply excitedly run up to their friends and hand them a Smirnoff Ice with all the coolness of a little giggly girl freaking out at a Twilight premiere.
Come on BROS, butch it up a little! These real versions of Bros Icing Bros might actually be more gay than my original understanding of the game.
Calm down ladies, don't get your flip-flops all tangled in a bunch.

"Get on your knees bro (giggle giggle)"

Hipsters Icing Hipsters – "I'm going to Ice Baker, I'm going to Ice the fuck out of Baker with a pineapple." Um, look out Baker, I think you are about to be raped.

You just got Iced. Now, drink it naked while we all watch.