Feb 26 2010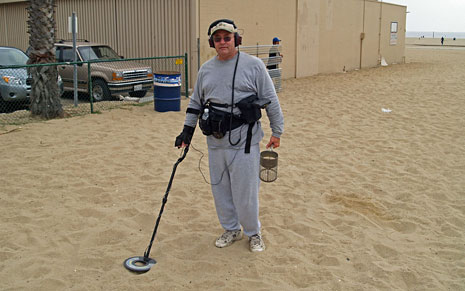 If I am ever this bored please kill me. Punch me in the face, take the metal detector out of my trembling hands, use it to find the nearest large metal item and kill me with it. The only problem with this plan is that it will most likely take you 10 years to find a metal "treasure" big enough to even slightly wound me. I don't want to sit there for weeks while you try to kill me with someone's lost earring. Fuck it, just kill me with the metal detector.
I know I shouldn't care if this activity makes people happy, especially since it's usually old guys, but it depresses me while I'm chugging my Corona and flexing my biceps for the young ladies who inevitably crowd around me at the beach. Do these dorks realize how hard it is to keep my pecs pumped while watching this sad display out of the corner of my eye? I'm trying to decide which girl gets to oil me up while Joe Treasure Hunter is collecting bottle caps. It's very distracting.
THIS JUST IN… I love metal detector enthusiasts!