Sep 30 2008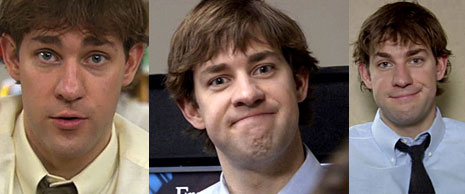 Yes, I am one of those annoying people who can't stop saying "how much better the original British version of 'The Office' is." That's not to say that I don't enjoy the American version of The Office, I just don't like it as much. I really love most of the peripheral characters like Creed, Andy, Kelly, Meredith and it's hard to dislike Rainn Wilson as Dwight, however I find the main characters to be much less interesting and I can barely stomach Steve Carell's performance as Michael Scott.
Blah blah blah, who cares about my opinion of every single character on The Office? Well it's my blog (God, I hate the word blog) so you will have to suffer through. ANYWAY, what do I hate most about the American version? The god damn "Jim look" that is shot my way every 30 seconds! WE GET IT, Jim is the only sane person in the office and he knows everyone is crazy and he's normal and all his coworkers are idiots. You know what, I can figure that out without such a blatant "aw shucks" reminder.
Should I care about something so insignificant as the world crumbles around us? YES YES YES! I have to care, it must happen! Every time Jim turns his head, looks directly at me and scrunches up his face as if to say, "gee whiz my coworker are dumb" I am forced to turn to the imaginary camera in my living room, scrunch up my face as if to say, "gee whiz I'm fucking sick of that guy's 'gee whiz' face."
I know there are people who love the "Jim look" but the difference between them and me is that I am right and they are wrong. Bow before my superior opinions!
This is dumb.

In case you care, here's a photo of Jenna Fischer's ass. You're welcome.