Oct 31 2008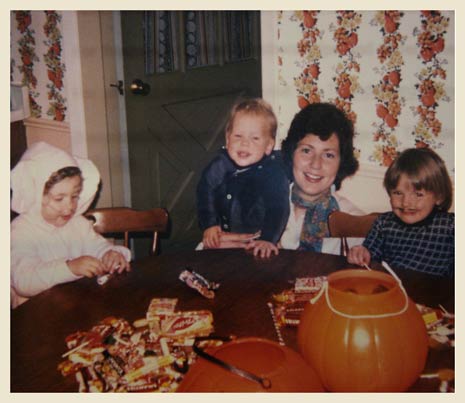 If you were a little kid in the 70s, or even up to the mid 80s, you probably have similar Halloween memories to mine. You would start planning your costume around November 3rd shortly after eating five pillowcases filled with candy over the previous three days and when Halloween finally did roll around you would trick-or-treat for hours. I easily, without exaggeration, walked about 140 miles while trick or treating each Halloween. Keep in mind, if my costume called for it I would walk these long miles in bare feet (i.e. barefoot hobo, barefoot zombie, barefoot cowboy, barefoot Batman).
My parents would remove the window from the front door to more easily hand out candy to the never-ending line of trick-or-treaters who would show up on our stoop all night until they finally were forced to turn the porch light off at 10:30 or 11:00. They always, ALWAYS, ran out of candy and my dad would quickly drive to the store to buy more.
It was Halloween motherfucker and it fucking RULED!
Sadly, tragically really, those days are over. Last year I moved to a house after living in an apartment the city for 15 years and I was ready for a long night of answering the door to a chorus of little voices screaming "TRICK-OR-TREAT" in unison but the doorbell rang twice, exactly TWICE! First, four cute little kids dressed as Spidermen and princesses rang my bell, YAY! Then an hour later two teens dressed as two teens rang the the bell and demanded candy. Happy fucking Halloween.
I ran into my 9 year old neighbor today and asked if she was excited about Halloween. She shrugged. I asked what she was dressing up as and she said "we are not allowed to dress up at our school." I curled up into a ball and cried until my tears formed a puddle around me.
I know I sound like an old man complaining about "my day" but come on, what's the deal? I know what the deal is, parents think their kids are going to be poisoned or razor bladed or whatever. This fear is baseless and not anchored by fact whatsoever. Creepy loners don't put razor blades in apples and they don't hand out poisoned candy. It just does not happen.
I honestly feel sad for these kids. Halloween was second only to Christmas when I was growing up. Maybe someone should create an "Extreme Trick-or-Treat" game for Xbox so kids can sit at home on their fat asses all night.