Mar 24 2010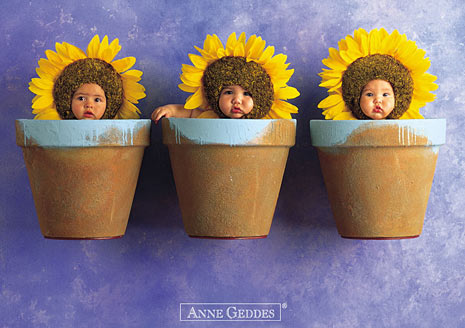 Yeah, that creepy poster of a baby dressed as corn is really going to brighten up your beer-soaked, double-wide trailer. IT'S SOOOOO CUTE!
I think I hate Anne Geddes because I'm jealous of her. I mean could there be anything easier than plopping some stupid babies into a giant salad and snapping a few photos? Put a baby in a bunny suit and get ready to start counting your money. BITCH!
The only people worse than Anne Geddes are the tasteless dolts who eat this shit up. I honestly can't comprehend looking at one of these posters and thinking "Oh yeah, I love that. I love it when babies dress in cactus outfits. I NEED that!" I like children, but this shit makes me want to do a Geddes-style poster of a baby dressed as a golf ball that's about to get whacked by a giant golf club.
And can we all just PLEASE agree to stop taking black and white photos of tiny babies being held by hairy shirtless men? OK, we get it, life is precious and fragile and babies look small in big hands and look how strong those hands look and we have to protect babies and the circle of life and kumbaya and peace on Earth and that scene in Ghost where Patrick Swayze fucks Demi Moore on a pottery wheel and Sarah Palin, and Jesus and Blue Collar Comedy and Walmart… Lord, take me now!