Apr 28 2010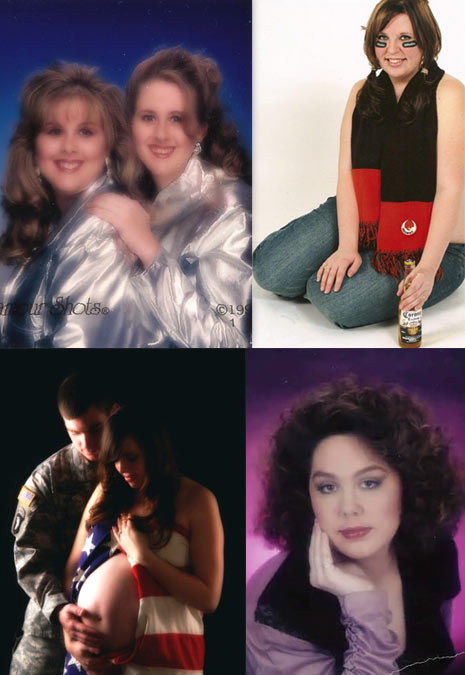 You can't polish a turd but apparently you can take its picture.
God bless you for thinking some zitty kid at the mall can magically turn your nightmarish face into that of a mid-level 80s porn star. Don't get me wrong, nothing turns me on like a woman with high hair in an acid washed jacket holding her collar with sausage fingers while giving me that "Do me on top of this cat calendar" look.
I just get so hot when I think about slowly removing your vinyl cropped motorcycle jacket from Walmart, ripping open your velcro fly jeans and making love to you on a pile of Star magazines while your Precious Moments figurines nervously watch the entire sweaty mess. I want to trace the curve (yes, the one curve) of your body with a jumbo Cheeto before placing it in your hungry mouth with my orange fingers. Finally, as we time our orgasms perfectly to verse 11 of "The Wreck of the Edmund Fitzgerald" I will pour a two-liter bottle of Mr. Peepers (your favorite generic Dr. Pepper) all over our naked bodies right there on the dirty floor of your trailer.
Gallery of sexy women holding their collars