Dec 15 2010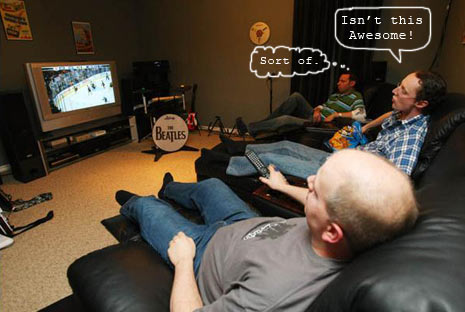 If you have to declare a sad little space in your basement as your "man" space, are you really much of a man? Do you even deserve a cave? How about this… the whole house is my God damn cave, deal with it Carol!
I know you had high hopes when you bought the poker table and the neon Miller Lite sign but I'm willing to bet you have never used that table for anything other than folding shirts. You hung your guitars on the wall dreaming of late night jam sessions with drunken bros but sadly most of your pals are simply too tired at the end of the day to come hang out in your dank basement and play Counting Crows songs. Your Xbox and Playstation sit under a layer of dust, your bar stays un-stocked and the fulfillment of your dreams remains hollow, just like the life-sized Stormtrooper costume that stands in the corner with a Jimmy Buffett hat on its head… watching you… judging you… feeling sorry for you. WHAT DID YOU EVER DO THAT'S SO GREAT WITH YOUR LIFE, STORMTOOPER?!? Fuck you Stormtooper!
Carol, will you play Guitar Hero with me? Carol?